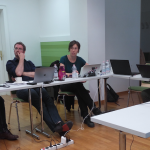 Another very busy EGI CSIRT meeting in beautiful Ljubljana, thanks a lot to JSI for having us!
Besides the great hospitality the CSIRT enjoyed discussions on lessons learned from the latest incidents, how to improve our view on things in the EGI infrastructure, as well as how to further develop our internal training portfolio to address future challenges.
Speaking of challenges, earlier this year EGI CSIRT organized an exercise simulating a massive incident spread through the infrastructure, called "Security Service Challenge" (SSC-19.03). Evaluation of the SSC run and assessment of the incident response data gathered during the SSC-19.03 was also tackled, with advanced search techniques being used to make sense of 665 RT ticket transactions from over 60 resource centers, along with suspension information data taken at 740 points in time during the SSC. It is planned to present the results of this evaluation to the user community involved in the excercise at their July GDB meeting hosted at CERN, and also to representatives of EGI resource centers at a future EGI OMB meeting.